The best news for one professional may differ from what most people think.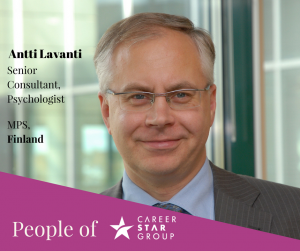 A top expert's decision to move on from a company where they have worked for a long time changes the order of their life.
Often the decision is not just about being dissatisfied with their own role or with the company's policy, it's the sum of many things. In such situations, it is great to be a coach – to walk alongside another person while they are making these changes.
This latest story begins with a guy that had stated that he no longer wanted to spend as much of his life working for the company he loved and had given him the opportunity to grow, learn, and experience the world. As part of his resignation package, he got the chance to take part in outplacement coaching.
Finland is a moderately small country – only five-and-a-half million people. The sizes of Finnish companies are also predominantly small, as is the case elsewhere in Europe. About 93 per cent of companies employ less than ten people.
Finding a place for a top expert and a manager from a large company often means moving to a smaller company. However, in most cases, this is a dream for the job seeker.
Such was the case with my coachee too. He was looking for a role in a smaller company. He wanted a company where there was little bureaucracy and where people felt more like individuals. He had to convince the executive search consultant and the recruitment company of his motivation on several occasions. After all, it is perhaps a strange thought that a worker who is on the rise would want to move to a smaller role and a smaller company.
Now, however, a new employment contract has been signed and the work will soon start at the new company. The feeling of success is awesome for both of us – for me as a consultant and even more for him as the person actually changing their work.