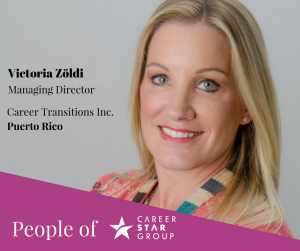 Victoria is a human resources professional, certified executive coach and corporate lawyer with international experience.  She holds the position as Managing Director of Career Transitions Inc., the leading HR consulting company in Puerto Rico, servicing both multinational and local clients, including many Fortune 500 companies.  In this position, she works mainly with the local affiliates' top executives on Leadership and Talent Development, Executive Coaching, Organizational Development, Executive Assessment, and Career Planning & Transition (Outplacement), implementing programs and trainings in either Spanish or English.
She has wide expertise in working with top management in the enhancement of organizational effectiveness, executive coaching (with over 550 hours of accredited coaching hours), leadership optimization, team building, change management, effective communication, and cultural awareness and diversity, having worked within multiple industries including pharmaceutical, consumer goods, energy, financial services, manufacturing, automotive, distribution, media, among others.  She also has ample expertise in corporate legal transactions, including corporate reorganizations, mergers and acquisitions, inter- and intra-company conflict negotiations, corporate governance, and cross-border business transactions.
Prior to re-joining Career Transitions Inc., she worked for five years as Senior Consultant in Human Leaders Group, in their Mexico City office, specialising in organizational development, with main focus on executive coaching, leadership and talent development, outplacement and career planning.  Before, she was Organizational Development Director and Training & Development Manager at Career Transitions Inc.
She has 10+ years of experience in corporate legal consulting, and has led negotiations in numerous multinational corporate transactions, including mergers & acquisitions, corporate governance, corporate reorganizations and business deals. She has extensive experience conducting business negotiations in the US and Latin America, and has served as Board Member in various companies.  She has been a member of Basílico, Fernandez Madero & Duggan, a major law firm based in Buenos Aires, and foreign associate at Simpson Thacher & Bartlett, one of the top law firms based in New York.
Victoria is a Professional in Human Resources (PHR) by the United States' Human Resources Certification Center, and a Certified Executive Coach by the University of Puerto Rico.  She holds a Law Degree from the Universidad Católica Argentina, and postgraduate studies at the Center for American and International Law, Mediation and Arbitration, in Dallas, Texas.  She is an active member of the US Society for Human Resource Management (SHRM), the International Coach Federation (ICF), and the International Bar Association (IBA).
She has been speaker and panel chair at several Human Resources and Law conferences in different countries, and has authored several articles published in specialised magazines and newspapers, on both human resources and corporate/ business law issues.
Victoria has been appointed to assist the Puerto Rican government in dealing with the 2009 unemployment and labor force crisis, cofounding the "Proyecto Adelanta". She has been Assistant Professor of Commercial and Corporate Law at the Universidad Católica Argentina, School of Law; and Foreign Academic at the Universidad Nacional Autónoma de Mexico (UNAM).
Victoria speaks Spanish, English, French and Hungarian.