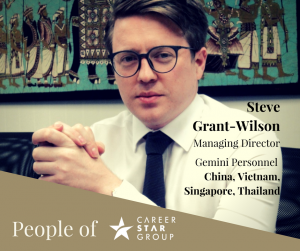 As Managing Director for Gemini Personnel Hong Kong, Steve oversees teams focusing on executive search, temp services, outplacement and visa services. Steve has over 12 years' experience working for MNCs and has worked in London, Shanghai, and Beijing and is now based in Hong Kong.
Steve has conducted over 300 hours of support programs and training in China and Hong Kong, working with both international expat clients and local clients, and is excited about the growing potential of the Outplacement market in the Asia region.
Companies in Asia are beginning to place more importance on their people and view outplacement as more than simply as a 'nice to have'. Gemini Personnel with over 30 years' experience in Asian markets aligned with CSG's global expertise and reach means we are well positioned to become the market leader for outplacement in the region.
Steve takes great satisfaction in providing a service to clients in a market where anything beyond monetary severance is still a rarity, working with impacted employees to help them discover and better articulate their value proposition to potential employers and to unlock potential avenues in the hidden job market for their next career step.