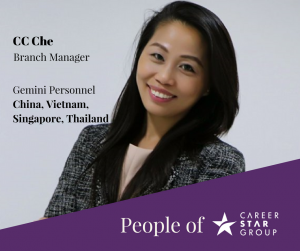 My name is Chew Chan, or CC is more commonly known, I spent 10 years as a professional athlete, competing at the highest level – 2008 Beijing Olympics for the Malaysian National Taekwondo team. The training, drive, and determination remains with me today despite having retired from the professional sport in 2010.
Following my retirement, as I transitioned back into "civilian" life, I have combined my passion for people development and training, moving it away from the sports arena and into the corporate office.
Having made a huge transition myself, I know what it takes and I am grateful to those who supported me. Now at Gemini, I am inspired by my job and the peoples I encountered everyday through coaching those who find themselves in a period of transition.
Based in Shanghai, I spearhead Gemini Development in China, focusing on leadership development and coaching support for those transitioning in their careers and Outplacement services.