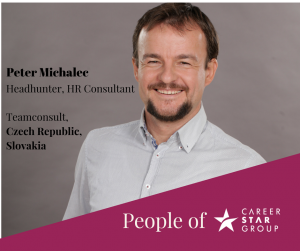 I finished my studies at the University of St. Cyrill and Methodius in Trnava with focus on Ethnology, the study of characteristics of peoples and how they interact in 2003. In 2009, I completed my distant study at Comenius University in Bratislava specializing in Occupational and Social Psychology.
During my studies, I worked at the company Region Press as Sales Manager, later as Regional Manager.
In 2004, I joined Teamconsult and started my job as an HR advisor, with training in Prague. Since 2005, I have worked in the Bratislava office of Teamconsult. I can speak English, German, Czech, and Slovak fluently, an asset when interacting with clients and customers all over the world.
Over the years, I developed professionally to be a successful executive search and outplacement consultant, specializing in Production and Manufacturing industries. My passions lie in R&D, mechanical engineering, and design.
In my downtime, I enjoy ice-hockey, football, running, music, nature, and going to my weekend house.