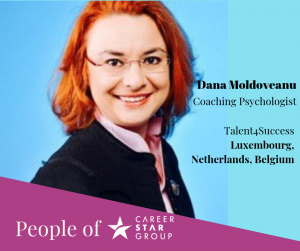 Dana is a coaching psychologist and part of Talent4Success team in Luxembourg. Dana provides career transition consultancy and coaching services to professionals and middle management clients.
Since 2010, Dana enhanced her experience as consultant, coach, and trainer in developing and implementing training and coaching programs designed to facilitate Career Transition, Performance and Communication. The Performance aspect of her coaching focuses on optimal functioning, mental wellness, prevention of mental distress, change of mental attitudes and behaviors, creative problem solving.
Before her role at Talent4Success, she worked as a consultant on innovation strategy matters for projects in the European Union regarding sales and marketing departments in different industries. She has degrees both in Romanian and Italian Economics, as well as a degree in Psychology  from the United Kingdom. She speaks and works in English, French, Italian and Romanian.
Learn more about Talent4Success