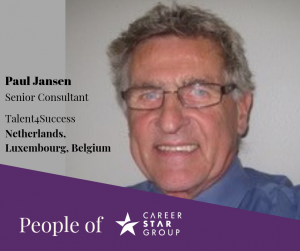 As a senior consultant and reintegration specialist at Talent4Success in the Netherlands, Paul works to help people who feel discouraged, lost faith in themselves, and feel hopeless about the future, during the job search process. Paul helps them realize that they have many possibilities available to them. It is an honor to be able to help them in their search for their talents and to convert them into setting new goals and then realizing them.
It always seems impossible until it is done. This statement is from Nelson Mandela and is so striking in the transition from being discouraged to restarting and setting new goals and achieving them! – Paul Jansen
He has years of experience with reintegration and has already supported many people in their search.
Besides reintegration, he is working on guiding professionals on their career transitions, as well. This is a different dimension, but the object is the same: to support people in realizing new goals. Helping these employees to discover unprecedented talents within themselves is always a worthwhile challenge.
Learn more about Talent4Success