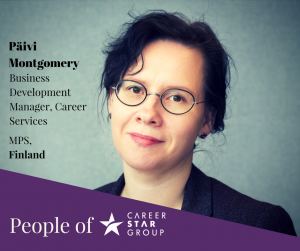 Moving on – careers in modern Finland
Working life is changing even in the high-tech promised land of Finland.  Due to the operational environment, consumer behaviour, and digitalization, competence requirements are evolving. MPS is particularly well-placed to be a continuous part of this change. Our outplacement services, staff and line manager development programmes, digital coaching and recruitment services keep us right up to date with what is happening in the workplace.
We are a valued partner in situations where an organization has to reduce its workforce – especially when those in question are experts, middle management or top management.  With our strong business understanding and experience, we help people go on to their next dream job.  However, we don't wait until layoffs begin – we also guide experts within the organization towards new opportunities to develop their competences or take on new responsibilities.
Since working life change requires the continual upkeep of skills, and because Finland is a role model in higher education, we have included the possibility for professional training into our outplacement coaching.
We have a network of well-known, high-quality training partners from academic institutions. Coaches can use part of their coaching time for, for instance, marketing, supervisory or financial skills training – or even get the support of a professional trainer and the chance to prepare for a job search with English-speaking companies with mock job interviews. That way, they get our comprehensive support to ensure that their skills are of the highest quality, even in future labour markets.