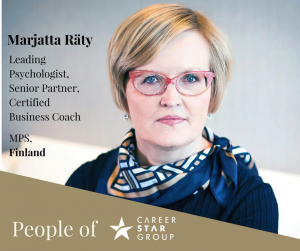 "Why Me?"
For an individual, the termination of employment is almost always a crisis of some sort – whether they admit it or not. This is also the case for those who are in a leadership position and who may already have long work and life experience. Even if the reason was due to a company financial crisis, a change in senior management or some other reason that is independent of the individual, people still tend to wonder, "Why me?"
However, I have found going over this situation to be meaningful – something we do at the beginning of the outplacement programme. Although it is not a therapy process, it is especially important at the beginning to give time and space for handling feelings and the wider situation. But it is equally important to start working on how to move forward and in what direction. So, I see that the consultant's most essential role is to both support and challenge.
I have noticed that often the same issues arises, regardless of a person's experience, background, and position. When work ends, it makes you wonder what you really want from your job, what motivates you, what kind of work is meaningful to you and where your expertise and strengths can best come out.
Although many people feel under pressure to get a new job as quickly as possible, being laid off also gives them the opportunity to first reflect on things properly, and then perhaps to go in a completely new direction in their career.
I feel that mapping your motivation is a very important factor here, and this also often takes time. Once you have found a direction, it is important to map and activate your own networks – especially for those in leadership positions. These networks are often the route through which a new job can be found.