My job career started at HR Area – Gruppo Pirelli. My professional experience built up thanks to the various roles I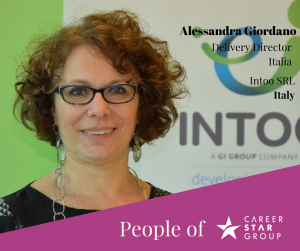 served there. In 2009, after twenty years, I began working at Intoo and now, I am the Delivery Director.
I coordinate all the outplacement consultants who work on individual and group programs. I am also responsible for defining paths of career growth and development for those who want to improve their own professional positioning. In addition I provide support for companies in developing employability projects aimed at raising awareness of their own internal skill sets.
Our Service: "Build My Career"
After 25 successful working years, the experience taught us that if you want to address the issue of career development with determination it is necessary to:
Help people to understand skills, to identify strengths and weaknesses. How high is their employability both inside and outside the company? Which skills do they lack to benefit from the full range of opportunities available in the market?
Build a realistic professional goal representing a synthesis between the requirements of the market and the wishes of the person
Build My Career is aimed at those who want to seek professional development and boost their career. So it focuses on the distinctive skills of the person in order to build his professional project and achieve his goals.
Our mission is to enhance the employability of the person so as to facilitate his reentry into the world of work or professional career development.
We try to give people a greater sensitivity of the market around them. They have to rediscover themselves, refine their existing skills and acquire new ones if necessary to find their new place in the world in an evolved market.
Continued training and updating skills will enable each worker to maximize his or her employability.
---