Today, in a currently changing and developing business climate and increasing shortages of skilled talents, many organisations struggle with attraction and, perhaps even more so, retention of talented employees. Employees today decide to join a company based on different values than a number of years ago. The last few years several trends have been surfacing in job seekers'/employees' decision-making behaviours when it comes to employment. No longer are monetary rewards the number one reason for people to take up employment. Employees today emphasize the importance of opportunities for career progression, balance between personal and work life, and investment in personal and professional development. Next to that, more and more people indicate the desire to work for a company that shows integrity and sincere engagement with its employees and their lives.
Therefore, creating an Employer Value Proposition (EVP) is a must for organisations that are looking to attract talent. An EVP should define the company's values and beliefs on all things important to its employees: Career, Culture, Work environment, Compensation, and Benefits.
Five things to bear in mind to improve your Employer Branding when it comes to the Career aspect:
           Career paths
The current generation of employees values the opportunity to progress in their career as much as anything else. Being able to show people the career journey the organisation can offer them will help attract and retain talents. Also, providing people with a clear career path helps to set and manage expectations with regards to employees' performance.
           Development – professional and personal
Another thing that is becoming increasingly important to employees is the organisation's support in their professional and personal development. Not just the daily tasks and responsibilities should contribute to their development; talent development programmes are a must for employees today.
          Stability vs. flexibility                                                                                                                                         Although employees these days value flexibility in terms of working days and hours, the need for stability or, employment security, is high the current workforce values job security highly. Offering clear and transparent employment contracts and explicating and managing expectations of employees' performance makes them feel more secure in the organization.
          Performance Management
This generation of employees values feedback more than any other generation: recognition and appreciation are important drivers of motivation. Constructive criticism on the other hand is vital as well, since it contributes to their development. So offering a professional, transparent performance management cycle is key in creating a positive employer brand.
           Career transition
A number of things can lead to having to let go employees, but whether it's due to organizational circumstances (e.g. a restructuring) or something related to the employee (e.g. underperformance) it is crucial for a company to show it cares for its people. Offering employees outplacement support when transitioning in their careers contributes heavily to the EVP.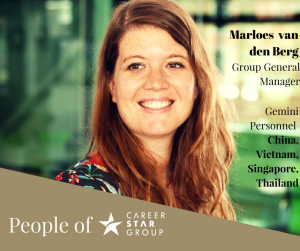 Marloes van den Berg, Group General Manager Gemini Personnel
Gemini Personnel provides clients with recruitment and HR solutions in relation to the full employee life cycle, from attraction to retention, and from development to outplacement. We are able to give advice and assistance to clients on numerous aspects of human resources including payroll and outsourcing services, visa processing, Career Transition and Outplacement services, (psychometric) assessments, and employee training. Gemini produces regular salary surveys in Hong Kong, China, Thailand and Singapore which are available on the website.