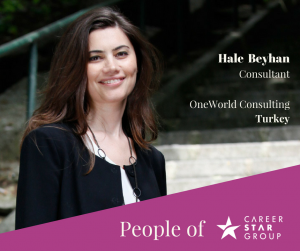 I have over 15 years of experience in human resources management and consulting. This includes 4 years experience in the banking sector as a Human Resources Specialist and more than 11 years as an Executive Search & Outplacement Consultant.
During my consultancy career I had a chance to gain experience in the design and management of recruitment processes, talent mapping and career transition processes. Since joining OneWorld Consulting in 2007, I have worked as a lead Consultant on various executive search projects across a wide range of industry sectors, including pharmaceuticals and healthcare, financial services, FMCG, industrial, manufacturing and telecommunications. I also have completed searches where we have identified and recruited talent in Central Asia, the Middle East and North Africa.
Over the last 6 years, I have focused on Outplacement projects and believe my  recruitment experience and knowledge is a great advantage when supporting people through their career transition.
While giving outplacement support, I believe building rapport with the person is very important before talking about practical issues. I believe that being motivated and willing to embrace the outplacement program is perhaps the single most important factor for our clients when it comes to them getting maximum benefit from our outplacement programs.
I love my job because when they get a job offer, they often call me first with their great news before their wives, husbands, or friends. It is really satisfying for me, having that feeling that you touch people's life in a positive way.