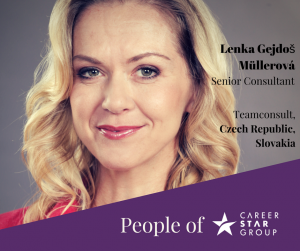 I graduated from the Comenius University in 2000, with specialization in Management of Organization and Human Resources Management. Besides my studies, I participated in organizing managerial courses.
I briefly worked for Ernst & Young but it was not my cup of tea. After E&Y, I successfully entered "HR consulting waters" and since then, I haven't changed my focus. I have worked in HR for 18 years, 10 of which have been with Teamconsult. I specialize in finance, law, sales, HR, and marketing.
Outplacement is an additional service to our customers that brings more added value to my professional consulting existence.
For most of our clients in Slovakia, I am the contact person when it comes to working out proposals for outplacement programmes. It helps that I am fluent in both English and Slovak.
I will be 50 years old soon. That's also the reason why I work as a SENIOR consultant. 🙂
Beside my beloved job, I am mother of three lovely daughters. In my spare time I am a passionate trail and marathons runner, Krav maga fan, enthusiastic book reader, and off – road driver.