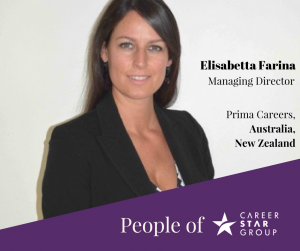 "Only a life lived for others is a life worth living." -Albert Einstein
This quote has very special meaning for me. It forms the basis of who I am, what I believe, how I feel about helping others when I work with them and aligns directly with the core values of our company. I don't build fences around how much I can assist anyone, and I think Einstein encapsulates that with this quote.
My name is Elisabetta Farina, and my passion is helping people and organisations navigate the intricacies of the rapidly evolving world of work.
For many people, their work is an intricate part of their lives, a crucial part of their DNA. Even the people we work with can be considered family. That's an indication of the importance that "work" means to many people across the globe and demonstrates how vital our career transition services have become.
As the Sydney-based Managing Director of Prima Careers, I currently have the good fortune of working on some of the largest projects in corporate Australia. These projects have encompassed a broad range of activities such as Outplacement and Career Transition, Executive Outplacement, Executive Coaching, Employee Assistance Programs and Workforce Redeployment among others.
My experience in Career Management and Outplacement spans over fifteen years across Europe and the Asia-Pacific region. My projects have included some of the largest organisations in these regions all the way to small-to-medium enterprises. One thing is clear – when it comes to the human resource element in the workplace, no two projects are exactly alike.
While each client I've worked with and project I've engaged in has varied in terms of complexity, at the core of each one are people – the employees. It can be quite a challenge to deal with the myriad of issues that arise from transitioning a workforce, no matter how small or large the number of people involved. However, we have tools and strategies in place to make this a smooth as possible for all people involved, the client and the employees.
Delivering an outcome that is consistent with a client's corporate objectives while addressing the personal aspirations of individuals is what drives me each and every day.
Learn more about Prima Careers.