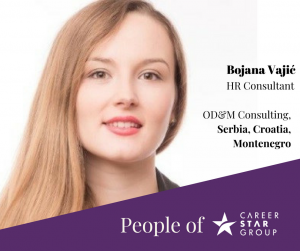 At the beginning of her career, Bojana worked more than 3 years as a Researcher, engaged on many social research projects. Her main duties were creating methodology tools, conducting focus groups and interviews, training and coordination of surveyors and interviewers during field research.
Bojana joined OD&M Consulting in June 2015. She is involved in Recruitment and Selection processes and responsible for managing middle and senior management level individual recruitment and selection projects. Beside recruitment and selection, Bojana is also involved in outplacement projects for different clients.
Bojana graduated with a degree in Sociology from the School of Philosophy, University of Belgrade. Currently she is completing additional courses in Psychology at the School of Media and Culture. She is certified in Thomas Personality Profile Analysis and fluent in English.