GR Reddy (GR) is the Founder, Chairman & Managing Director of Husys, India's best and first outplacement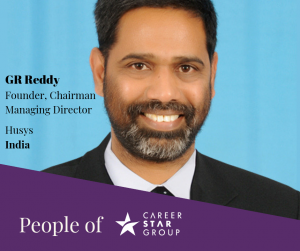 provider, listed on India's National Stock Exchange. He believes in building an enterprise to last.
He founded Husys in 2002 to bring innovative practices in HR Management to India. Ever since, Husys has been on the forefront of bringing the very best HR practices to India, including introducing the HR function of outsourcing as a concept way back in 2002.
GR strongly advocates for the importance of Human Resources in building and growing businesses in his discussions with founding CEOs across India. He has hosted learning events to educate business owners and HR professionals on HR Management, innovative HR technology, and outplacement as a best practice.
With over 25 years of experience, GR personally mentored over 1,500 professionals in their career progression from multiple industries and at various levels. He is the most sought after professional for career transition advice to Senior and C-level individuals in India. His special program on Entrepreneurship for career transition teams is runaway success based on current market conditions in India.