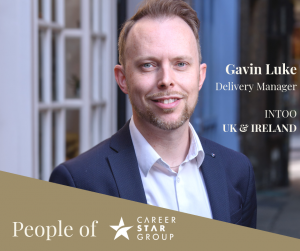 As Delivery Manager, Gavin is responsible for the delivery of INTOO UK & Ireland's services. Combining his passion for people and his previous experience, Gavin is committed to delivering an exceptional service across the broad range of clients and projects he supports. Gavin believes in the value of relationship building to become a trusted and valued partner and uses these relationships to engage his stakeholders to deliver services that exceed both customer and individual clients' expectations.
Making the right decisions in times of change is crucial. Part of helping individuals achieve the right outcome is understanding personal circumstances. Working in partnership with clients, we create a tailored approach that is suited to their need, ensuring their next step is a successful one. – Gavin Luke
Prior to joining INTOO Gavin worked for Gi Group where he supported organisations with large scale recruitment requirements. Managing an onsite team, Gavin is no stranger to the importance of planning, process mapping and strong project management and brings these skills to INTOO and its clients. He also leverages his former experience to advise on key areas such as labour markets and workforce design.
Drawing on his earlier career within HR as a process manager, Gavin understands the benefits coaching and mentoring can bring to change management and transition strategies for organisations and employs these skills to continually improve ways of working and internal processes.
Learn more about INTOO UK & Ireland