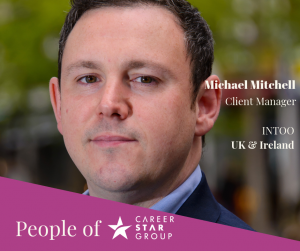 As a Client Manager at INTOO UK & Ireland Michael is responsible for consulting with customers around their key people challenges, recommending the most appropriate solutions that quickly deliver lasting results. Working across multiple sectors, Michael's focus is on providing exceptional support for his clients by building long lasting relationships.
We have a genuine passion for being able to support organisations, and individuals through emotional and stressful periods of transition. Having a global reach not only enables us to draw upon local knowledge, but also enables us to support our clients wherever their need may be. – Michael Mitchell
Prior to joining the team at INTOO UK & Ireland, Michael spent 10 years working in financial services, specialising in HR initiatives. He joined INTOO from one of the top 5 Financial Advisers in London where he was providing a HR Framework for large corporate organisations to help create an internal culture for employee development.
Michael uses his extensive experience and knowledge of organisational development and belief that true competitive advantage comes from people, to work with and advise his clients, ensuring the most effective outcome for the company or the individual.
Learn more about INTOO UK & Ireland