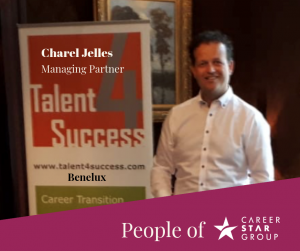 Charel Jelles is the Managing Partner for Talent4Success in the Benelux region. He is responsible for securing and maintaining relationships with key customers and ensuring that candidate and customer expectations are achieved through operational and sales excellence.
Since 1997, Charel Jelles has worked in the human capital and talent development marketplace. He received his bachelor's degree in Management, Economics and Law and a post-bachelor's degree in Business Administration with a Labour Market specialization.
Charel is part of the Career Star Group European Sales Directors Team and he recently joined the Association of Career Firms as a Board Member.
Learn more about Talent4Success