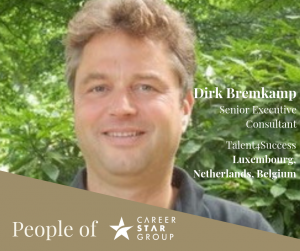 Dirk is Senior Consultant, Outplacement for Belgium and delivers outplacement services for senior profiles in different languages including, Flemish/Dutch, English, French, and German.
Dirk joined Talent4Success as Senior Executive Consultant in 2013. Prior to this, he worked in HR for more than 15 years in various positions. He gained extensive experience in international recruitment and was also an HR Manager involved in several restructuring processes.
Dirk holds a Law Degree and is a certified Coach by the International Coach Federation. Currently, he is Secretary General of the Belgian Chapter of the International Coach Federation.
Learn more about Talent4Success