Many employees have felt a lack of motivation whilst working from home – how can you prevent this and how do you keep your members of staff enthused?
Training and coaching
With your employees having more time on their hands (no long boring commutes to business parks) there is an opportunity to offer training and coaching. This will not only help with self-development for members of staff but offers an opportunity to close skill gaps in your organisation which will help you and your employees thrive post pandemic!
Catch-ups
With members of staff working from home, line managers have less visibility on what employees are doing and this could result in managers micromanaging! Why not prevent this and set up a weekly catch-up a call with individuals where they can lay-out their objectives for next week and even raise issues/ queries – don't worry this could just be an informal chat over a cup of coffee (almost like being in the office) but will ensure employees feel listened to and part of the wider team.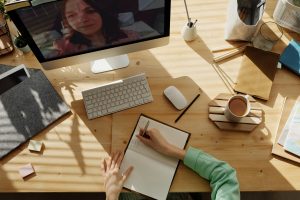 Celebrate success
Remember those days where you could take your team out for lunches once a project has been finalised or that new client win? You can still reward and celebrate with your team albeit in a virtual capacity! Why not organise that cocktail masterclass over Zoom? Or get a goodie bag delivered to someone who has gone above and beyond their duties?
Rewards will give the team a boost and will make them feel valued and appreciated within your organisation.
Be positive & understanding
If there is one thing we have learned during the pandemic, it is that we are all in this together. Be understanding of your team members personal circumstances and that they may have to juggle work around child care and other commitments.
If you give your team members this flexibility it will ensure that they are loyal to the company for a long time to come….