Finland is currently experiencing a period of economic growth, which was already visible in 2017 through a noticeable reduction in layoffs and an increase in recruitment.
After many economically challenging years, according to forecasts, growth will continue t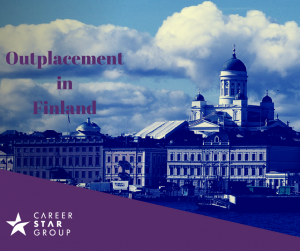 o be strong throughout the year 2018. Structural unemployment however, affects the countryside and in particular Eastern Finland as jobs increase in growth centers and, at least in wintertime, in Lapland along with tourism. Many are reluctant to relocate to work in a different city after they have started a family and purchased a house, as it may be difficult to sell a property in a sparsely populated area.
Unemployment is decreasing slowly but surely in Finland. The unemployment rate in January 2018 was 8.8 while at the same time in 2017, stood at 9.2. The largest economic growth can be found in the software and construction industries, as both are suffering from a shortage of experts. Similarly, the tourism, care and mining sectors are recruiting strongly.
Laws in Finland Promote Training, Outplacement Services
Despite the economic growth, large mergers and organizational changes cause layoffs. These employ the providers of outplacement services, although many people who are laid off, find a new job before the service starts. Part of this is due to the legislation that made it compulsory for organizations to offer training for all employees who have been laid off for production and / or economic reasons, and who have been employed for at least five years within the organization. The law applies to all organizations employing at least 30 people and all levels of work.
According to the law, laid off workers should therefore be provided with training to support employment, which may be vocational or outplacement training. The law also determines the value of training or coaching, which should be worth either the monthly salary of the laid off person or the average monthly salary of the employees who work in the same office, whichever is the greatest.
However, the law allows for negotiation of training locally.
This has led the union stewards to engage more strongly in negotiating what kind of training the impacted individuals are offered, and the monetary value of this training. It is typical for organizations to agree on services of different prices for different levels of workers – employees, management and middle management. The union stewards also often decide which partner they want to use. The service providers are less likely to meet with union stewards, as their negotiating partners are generally HR personnel. This requires service providers to be able to convince the union stewards in writing and have the ability to make comprehensive presentations of their services, since often; the service provider is selected based on the written material.
With the new law, there is also a generalized custom in which the laid off person is given the opportunity to use half of the value of the training for education, such as language or IT education and the other half for outplacement training. The outplacement consultants tailor the price of their offers almost every time to correspond with the law. This requires flexibility and good, direct relationships with customers.
Some outplacement companies offer vocational training for industries suffering from shortage of experts themselves. A few have also signed partnership agreements with training organizations and direct the participants to studies as needed. This is how MPS also works. Particularly in the case of large layoffs, HR has increasingly more matters to manage, as they have to calculate the share of vocational studies for each individual separately as well as the share used for outplacement services. On top of this, they must make the orders and handle the billing.
We have therefore begun to provide a comprehensive service for such situations; HR buys our service and we, together with the individual, determine whether he or she uses the full package in our training or partly in vocational training with our partner network.
Offering Outplacement to All
Outplacement services has in the past been customarily used in layoffs of management and middle management.
In the employee level, the service has become more common over the years. With the new law, outplacement services are also offered to employee level, usually in group form, which can be combined with individual appointments.
MPS as a brand is an expert, middle management and senior management service provider. We are happy to provide services to employee level as well, but these services are rarely purchased from us. There are operators in the Finnish market whose services are easily associated with the employee level or the lower employee level. As a brand, we are considered to be well-known and of high quality, which also largely guides what level of outplacement needs the customers approach us with.
As the financial situation is strong, our individual clients are becoming employed faster. In the years 2016-2017, the employment rate was 80, six months after the start of the training. This is a good result considering that we usually train senior level experts who have typically worked for their previous employer for a long time, up to 20 or 30 years.
Tasks suitable for them are not very often available. Some of the individuals we train find a way to a new job through complementary training, which is also offered free of charge in Finland. Some on the other hand become entrepreneurs, selling the experience they have gained over the years directly to customers. Know-how needs are also in a turning point which can be seen, for example, in banking, insurance and IT sectors. In these areas, layoffs may continue in the future, and often a new job can only be found through training.